System Description
The filler tapes are designed as an underlying filler materials prior to the application of coating systems.
Features
(1) Excellent corrosion resistance.
(2) Several colors available such as black, gray, green and red .
(3) Conformable to irregular pipe
(4) Compatible with general coating system.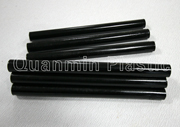 Hot melt adhesive stick :
Hot melt adhesive stick is composed of heat-activated adhesive with a stick form.It is used for repairing a small damage on the pipeline. It could be used as a filler material with PE repair patch.
Advantages:
-Flexible
-Excellent adhesion
-Flows into hard-to-reach location
-Excellent moisture resistance
Physical Properties:
Hot melt adhesive stick

Test

Method

Value

Impact resistance

DIN30672

22J

Dielectric Breakdown

ASTM D149

30kV/mm
Product selection method
Selection of Product

Max.Operating Temperature

Compatible Line Coating

Product

Small damage or Scratch

114°F(80°C)

PE,PP,FBE,CTE

Only Hot melt adhesive stick or with PE repair patch

Damage

PE,PP,FBE,CTE

Hot melt adbesive stick with PE repair patch or Mastic filler with PE repair patch

Large damage

Heat shrinkable sleeve is recommended