System Description
The filler tapes are designed as an underlying filler materials prior to the application of coating systems.
Features
(1) Excellent corrosion resistance.
(2) Several colors available such as black, gray, green and red .
(3) Conformable to irregular pipe
(4) Compatible with general coating system.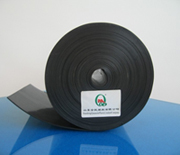 PE repair patch :
The product consists of an irradiated cross-linked polyolefin sheet coated with a heat activated adhesive and is designed specifically for sealing and protection of damaged pipeline coatings.
Advantages:
-No special tools or equipment required
-Excellent abrasion resistance
-Inert to common acids,alkalis and solvents
-Barrier to moisture and corrosion
Physical Properties:
PE repair patch

Test

Method

Value

Tensile Strength of Backing

ASTM D638

22 MPa

Elongation at Break of Backing

ASTM D638

600%

Hardness, Shore D of Backing

ASTM D2240

52

Dielectric Strength of Backing

ASTM D149

35kV/mm

Adhesive Water absorption

ASTM D570

≤0.05%

Adhesive softening point

ASTM E28

125°C

Adhesive Lap shear @23°C

ASTM D1002

196psi

Peel strength of PE repair patch

ASTM D1000

60N/cm

Impact resistance of PE repair patch

DIN30672

20J