T600 PE butyl bitumen tape for corrosion protection of Oil, Gas, Petrochemical, Waste Water underground or overhead pipelines and waterproofing.
The specification of the tape consists of three layers,
Adhesive: Butyl rubber(BR) or butyl rubber base modified bitumen compound(BC).
Film backing: Special blend of stabilized polyolefines.
Interleaf: Anti-adhesive Film Treated with Silicone.
Features:
Heavy duty butyl bitumen compound adhesive.
Excellent adhesion to pipe and self.
Flexibility provides extra protection at vulnerable areas.
Excellent conformability and consistent uniform thickness.
Easily applied with no special equipment.
Compatible with common pipe coatings.
Excellent resistance to cathodic disbonding.
Resistant to UV.
Can be applied over a wide temperature range.
Good conformability and consistent uniform thickness.
Cold applied.
Structure: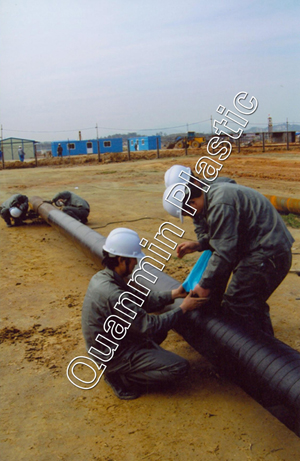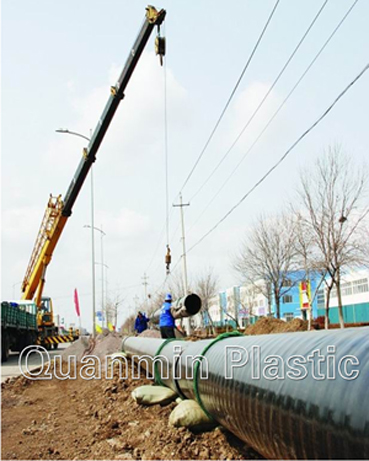 Technical Data Sheet:
Physical Properties

Test Method

T660-45

T660-48

T660-55

T660-60

T660-65

Total Thickness

ASTM D 1000

1.15 mm

1.20 mm

1.40 mm

1.50 mm

1.65 mm

Backing Thickness

ASTM D 1000

0.25 mm

0.25 mm

0.35 mm

0.45 mm

0.50 mm

Adhesive Thickness

ASTM D 1000

0.90 mm

0.95 mm

1.05 mm

1.05 mm

1.15 mm

Tensile Strength

ASTM D 1000

>60 N/cm

( >34.3 lbs/in )

Elongation

ASTM D 1000

>300%

( >300% )

Peel strength to Primed Steel at

At 23 ºC

ASTM D 1000

>80 N/cm

( >731 oz/in )

At 50 ºC

ASTM D 1000

>10.5 N/cm

( >96 oz/in )

Adhesion to backing at

ASTM D 1000

>8.5 N/cm

( >77.7 oz/in )

Cathodic Disbondment

ASTM G 8

8.0 mm

( 0.315 in radius )

Water Absorption Rate

ASTM D 570

<0.10%

( <0.10% )

Water Vapor
Transmission Rate

ASTM F 1249

<0.1 g/m2·24h

( <0.0064 g/100sqin/24h )

Insulation Resistance

ASTM D 257

2.5×1015 ohm.cm

( 2.5 by 10 E 15 Mohm )

Dielectric Strength

ASTM D 149

28 KV

( 28 KV )

Impact Resistance

ASTM G 14

15 N·m

( 133 in·lbs )

Color

Black ,White,yellow or other

Tape width in inches

50mm(2"),101mm(4"), 152mm(6"),228mm(9"), 305mm(12"), 457mm(18"), 610mm(24"),750mm(29.5"), 800mm(31.5"),1000mm(39")

Tape roll length in feet

15m(50ft),25m(82ft), 30m(98ft),50m(164ft), 61m(200ft),100m(328ft), 122m(400ft)

Core size

38mm(1.5"),76mm(3") core of paper or hard plastic

Application Temperature

-34 ºC to +120 ºC

( -29 ºF to 120 ºF )

Operating Temperature

+120 ºC

( 248 ºF )