One-piece heat shrinkable sleeve for corrosion protection of girth weld joints.
Product Description
Tubular Heat Shrinkable Sleeve is a tube-like sleeve, consists of a cross-linked polyethylene backing, coated with a protective heat sensitive adhesive which effectively bonds to steel substrates. Similar to CanusaTubeTM, Tubular Heat Shrinkable Sleeve have high performance in corrosion protection for girth weld of buried and exposed steel pipelines.
Structure: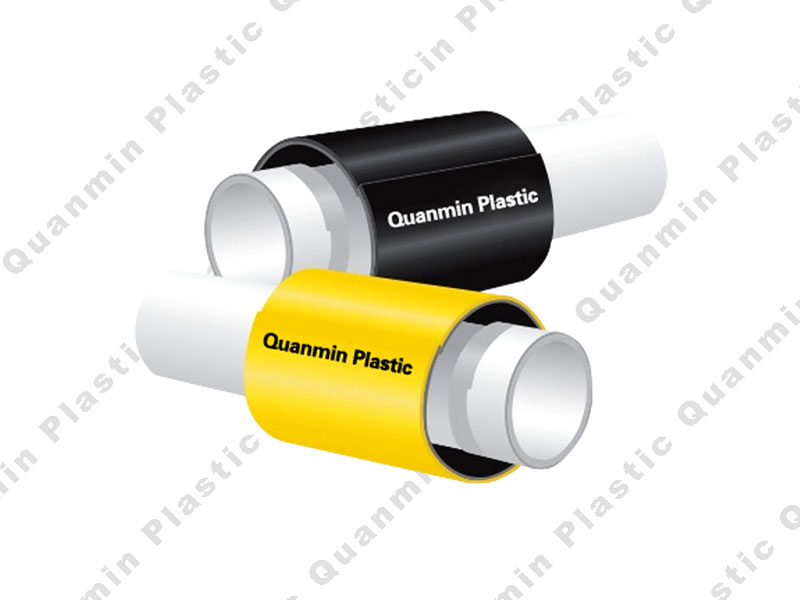 Features and Benefits
1.Rapid & Reliable Installation
A Tubular configuration that factory has constructed, quick and reliable field installation is easy to accomplish. No special equipment or skills required.Tubular girth weld sleeves are installed before welding together the carrier pipe, sliding the sleeve from a free end at least 1m away from the cutback area of the joint.
2.Long-Term Corrosion Protection
Tubular girth weld sleeve offers superior resistance to cathodic disbondment and excellent durability against abrasion and chemical. Provides high peel and shear values after installation.
3.High shrink force HDPE backing
High shrink force backing creates tight, high performance bond and a strong seal.The HDPE backing of Tubular heat shrinkable sleeve is engineered for standard or high soil stress environments.
4.Unique Adhesive Technology
The unique adhesive of Tubular girth weld sleeve requires to bond directly to polyethylene coating with the epoxy primer on the steel only, this also allows lower installation pre-heat temperatures.
5.Saves Time & Money
Time saves in three ways; unique tube-like construction means less time handing,positioning and installing the tubular heat shrinkable sleeve. Low preheat requirements means less time heating. No additional primers.
Properties of Melt Adhesive Sealant:
| | | | |
| --- | --- | --- | --- |
| Physical Properties | Typical Values | Unit | Test Method |
| Thickness(min) | 1.1(45) to1.6(65) | mm(mils) | ASTM D1000 |
| Softening point | 110(230) | ºC(℉) | ASTM E28 |
| Lap shear strength At 23 ºC | 2.8 (406) | Mpa(psi) | ASTM D1002 |
| Lap shear strength At 80℃ | 0.18(26) | Mpa(psi) | ASTM D1002 |
PE Properties of sleeve:
| | | | |
| --- | --- | --- | --- |
| Physical Properties | Typical Values |  Unit | Test Method |
| Width | 300(12)to700(28) | mm(Inch) | ASTM D1000 |
| Thickness(min) | 0.6(24)to1.1(43) | mm(mils) | ASTM D1000 |
| Specific gravity | 0.93 | g/cm3 | ASTM D792 |
| Tensile strength | 24(3480) | Mpa(psi) | ASTM D638 |
| Elongation | 700 ↑ | % | ASTM D638 |
| Hardness | 50 | Shore D | ASTM D2240 |
| Volume resistivity | 1×1015 | Ohm-cm | ASTM D257 |
| Dielectric breakdown | 32 | KV | ASTM D149 |
| Water absorption | 0.1↓ | % | ASTM D570 |
| Water-vapour transmission | 0.05↓ | g/ m2·24h | ASTM E96 |
Properties of sleeve :
| | | | |
| --- | --- | --- | --- |
| Physical Properties | Typical Values |  Unit | Test Method |
| Thickness(min) | 1.7(67)to2.7 (106) | mm(mils) | ASTM D1000 |
| Impact Resistance | 15↑ | N·m | ASTM G14 |
| Volume resistivity | 1×1017 | Ohm-cm | ASTM D257 |
| Dielectric breakdown | 40 | KV | ASTM D149 |
| Water absorption | 0.05↓ | % | ASTM D570 |
| Water-vapour transmission | 0.05↓ | g/ m2·24h | ASTM E96 |
Properties of Installed sleeve:
Physical Properties

Typical Values

Unit

Test Method

Thickness(min)

1.9(75) to 3.0(118)

mm(mils)

ASTM D1000

Impact Resistance

20

N·m

ASTM G14

Free longitudinal contraction

25

%

ASTM D2732

Peel strength

To Primer Steel

160

N/cm

ASTM D1000

To PE Lining

100

N/cm

ASTM D1000

Cathodic Disbondment

15

mm

ASTM G8

Low Temp Flexibility

-32(-26)

ºC(℉)

ASTM D2671-C

Max. Operation Temperature

 65(149)

ºC(℉)

-
Working drawing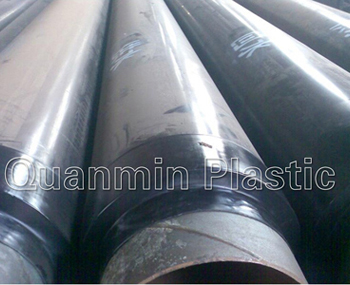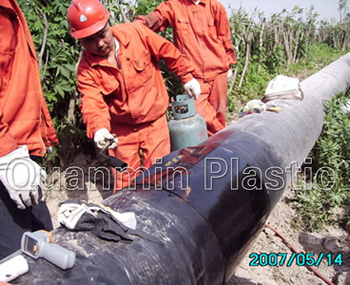 Tubular Heat Shrinkable sleeves Installation and Usage