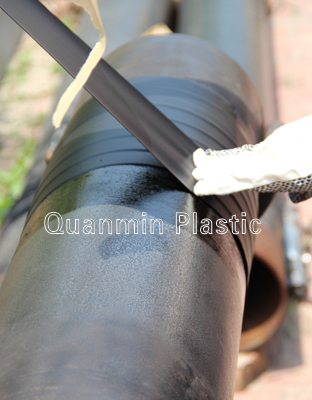 1.Product Description
PVC bitumen tape is 'All Weather' self-adhesive PVC tape. It is for the protection of steel and ductile pipes, welded joints, bends and fittings and similar structures from corrosion above ground or buried or immersed. The tough PVC backing is selected to suit different requirements of soil conditions and pipe diameters. PVC bitumen tape can be applied by most operators with the minimal amount of training on site/ in situ or in a workshop.
2.Composition
The self-adhesive PVC tape is composed of tough PVC backing and heavy duty rubber modified bitumen compound or Butyl rubber. The tough and flexible PVC backing has high resistance to alkali and acid, excellent mechanical resistance, ensures exception resistance to damage by impact or poor backfill and in aggressive ground condition. The polymer modified bitumen compound is thick and has high high shear resistance and cathodic disbondment. The bitumen compound layer is protected by an interleaving, wider than the tape, which is removed/discarded during application.
3.Product Usage:
PVC Bitumen Tape is easy to apply with no special tools or equipment. Being tough flexible PVC tape, it is suitable for different pipe diameters , particularly for protection of medium and large diameter pipes, weld joints, bends and fittings, above or under ground.

There are two regular usage:
a) PVC bitumen tape used as single corrosion protection layer on primed steel pipe surface.
b) Used as PVC protective outer layer in multi-layer coating system.
4.Product Features:
·Tough Heavy Duty PVC Backed Tape
·superior durability and long term corrosion resistance
·High flexible
·Excellent shear resistance
·Excellent impact resistance
·Easy to apply
·High strength
·Resistant to dilute mineral acids, alkalis and salts
·Non cracking and non absorbent to moisture
·Compatible with, and can be used to overwrap, most pipeline coatings
5.Instruction For Use:
For the protection of pipes, fittings and similar structures from corrosion. To protect the metal structures from the environment the self-adhesive PVC tape must cover the entire surface.
6.Surface Preparation:
Remove any dirt, oil, grease, rust by suitable methods. Remove any metal burrs or weld spatter. The minimum requirement for surface preparation of pipe /steel surface is by mechnical/power wire brushing to remove any rust scales. Grit blasting can also be done in heavily contaminated areas.
7.Priming:
Primer should be compatible with wrapped PVC bitumen tape.
Stir the contents of the primer for 1-2 minutes to remove any sediment. Apply the primer with a brush or roller evenly to ensure complete sealing of all small undulations and imperfections, particularly around weld bends. Re-seal the containers when not in use.
8.Wrapping:
To protect the metal structures from the environment the bitumen tape must cover the entire surface.
Wrapping should not commence until the primed surface has become touch dry. Apply strips of self adhesive PVC tape 100mm wide along the weld bends and press firmly. Peel back 150mm to 300 mm of the release film and apply the tape, adhesive side, to the pipe. The angle of the tape mush be such as to produce specified overlap. Apply only sufficient tension to ensure good conformation avoiding air pockets and bridging. Ensure end lap area of at least 150mm when splicing the tapes. Backfill with care. Avoid use of rocky or agglomerated backfill.
9.Inspection:
Ensure that the entire surface is covered with no gaps or air pockets by PVC bitumen tape. Examine adhesion by coupon test 24hr after wrapping. Holiday test at 10kV for single layer and 15 kV for double layer.
10.Gernal:
Surface preparation, priming or wrapping should not take place when the substrate is wet. Do not carry out work when the surface temperature is less than 5℃. All sources of ignition must be extinguished or removed before carrying out priming operation. Adequate ventilation must also be ensured. Store the bitumen adhesive tape at temperatures not exceeding 30℃ and avoid excessive load stacking. During the wrapping application it is important to maintain an even tension whilst controlling the overlap to prevent air entrapment, which could lead to corrosion at a later stage.
11.Storage And Shelf Life:
PVC bitumen tape should be stored under cover, out of direct sunlight and protect from extreme temperatures. Storage area should be cool, dry, well ventilated and regularly monitored for temperature and major sources of heat. Ambient temperature inside storage areas should be always be less than 30℃. Recommended storage temperature is between +5℃ to +30℃. In tropical climates the product must be stored in an air-conditioned environment. Self-life is up to 12 month when stored as per recommended storage conditions.
12.Performance History:
Qatar:Blue PVC bitumen tape for potable water pipeline, Black PVC bitumen tape for city Infrastructure pipelines.
Iran: 1200m bitumen tape of width 300mm and thickness 1.5mm. Bitumen type suitable for underground water pipeline.
Russia: PVC adhesive tape for insulation of pipelines (oil, gas).
Designed to protect against corrosion of the main outer surface as insulation and protective coating. Used in the installation and repair of pipelines and waterproofing of heat.